Below are the migratory tracks of 231 juvenile and sub-adult loggerhead turtles tracked by satellite tags from 1997 to 2013. For the STRETCH project the turtles of interest are the ones on the right hand side of the image that moved toward or to Baja California.  Origin of STRETCH (Jeffery Seminoff)

Below is an animation of the our 25  satellite tagged loggerhead turtles in the North Pacific ocean from August 19 to September 14th.  The loggerheads are in waters where they appear to be feeding.
SEA TURTLE RESEARCH EXPERIMENT ON THE THERMAL CORRIDOR HYPOTHESIS
Dr. Larry Crowder (Edward F. Ricketts Provostial Professor of Marine Ecology and Conservation And Senior Fellow, Woods Institute for the Environment Hopkins Marine Station of Stanford University) presents an overview of the Sea Turtle Research Experiment on the Thermal Corridor Hypothesis (STRETCH) at the Pices Annual Meeting in Busan, South Korea (Sept. 2022).
The STRETCH project is based on the following paper by Dana K. Briscoe, Calandra N. Turner Tomaszewicz , Jeffrey A. Seminoff, Denise M. Parker, George H. Balazs , Jeffrey J. Polovina, Masanori Kurita, Hitoshi Okamoto, Tomomi Saito, Marc R. Rice and Larry B. Crowder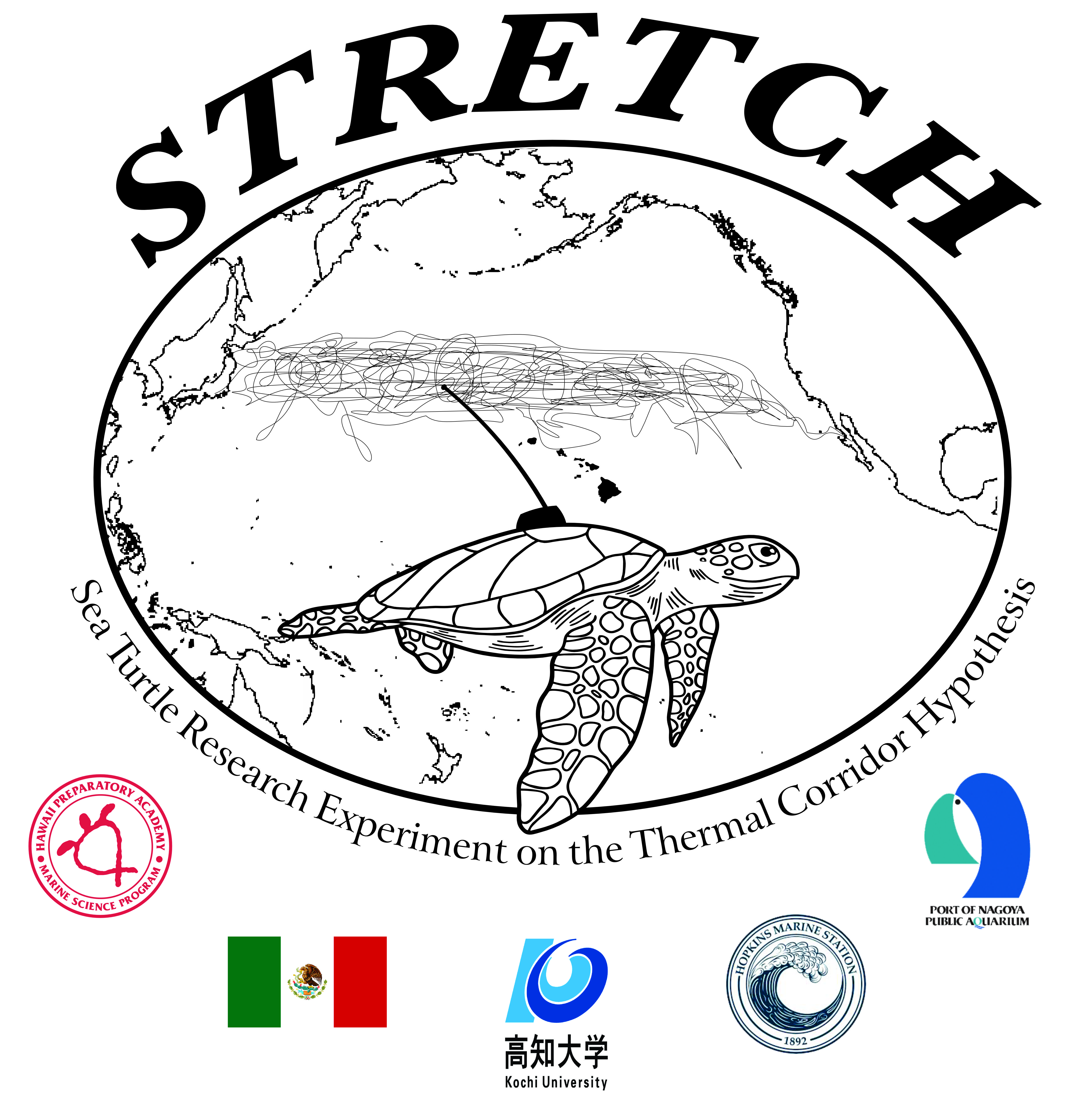 The video below shows how we released satellite tagged Juvenile turtles from a Taiheiyo Ferry into the Kuroshio Current off  the coast of Japan.  Over a number of years, we released 197 satellite tagged juvenile loggerhead turtles in order to study their movements in the Central North Pacific Ocean.  The first cohort of 25 satellite tagged juvenile loggerhead turtles will be transported and released from a car carrier vessel that travels from Japan to the Americas. Masanori Kurita, Diector of the Port of Nagoya Public Aquarium has enlisted the help of a company that has a ship that can deliver our turtles to a region much closer to what we think might be the area where the "thermal corridor" exists.  Mr. Kurita was able to tour one of the ships and take pictures of the important aspects of the ship as it relates to the release of our tagged turtles. Masanori Mori, Sea Turtle Curator (PNPA) and Noah Yamaguchi, Kochi University student, will accompany the turtles during their trip on the ship to ensure their health and safety and conduct the release at the predetermined location.